The Ghostly Gala is 10/31 Consortium's corresponding masquerade ball to the Baton Rouge Halloween Parade. The event is primarily for 10/31 Consortium members and parading krewes, however the general public is also welcome to purchase non-member tickets.
Guests will enjoy music, dancing, costume contest, table decorating contest, food catered by Ruffino's, an open bar, and much more!
Tickets are sold individually on Event Brite. Members should select the option for a $50 member ticket. Non-Members should select the $65 ticket price. If you would like to purchase a table, you must order 10 tickets at once. A table of members and non-members is fine, but you must select the correct amount of each because member tickets will be verified at the door. The ticket buyer will serve as your table captain and will be the point of contact if needed. Event Brite does require that we collect a name and email address for each ticket sold. If you do not have that info at the time of purchase for each guest just use the buyer's info, however please note that member tickets will be verified at the door. Any non-members holding member tickets will need to pay the difference at the door. Discounted tickets are a benefit of 10/31 Consortium membership. You can become a member at www.1031Consortium.com for only $31/year.
Table Details: Tables are 60″ (5′) rounds with 10 seats. Each table will be provided with either an orange or purple table cloth and creepy candelabra. Krewes/table groups may come in between 12pm-2pm only to decorate tables for the contest on Ghostly Gala day. Battery operated lights/candles only. No open flames. No paper goods needed. All provided (china,silverware, linen tablecloths,napkins and glassware) by the venue. No outside food or alcohol permitted or needed.
Seating Chart: All tables purchased will be first come first served and assigned to the main ballroom (where DJ and dance floor will be) unless otherwise specified. If you would prefer the back party room (8 available tables) where it may be quieter please let us know. Both rooms have a buffet table and bar.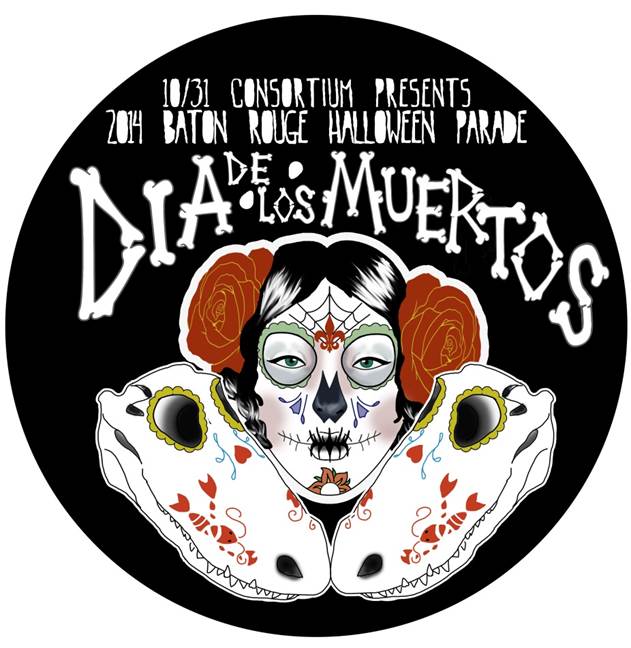 This year's theme is Dia de los Muertos 
(Day of the Dead)
ATTIRE: Costume or Creative Cocktail
AFTER PARTY: Huey's on 3rd Street from midnight – 2 a.m.
Must be 21.
This event is sponsored by Alchymia and Deer Haven Dental Lab.